BIAS PLY OTR TYRE REPAIR PATCHES
Constructed with special rubber compounds and strong nylon fibers.
Butterfly shaped OTR repair units are constructed with a innovatively designed fabric layers which enable excellent sidewall reinforcement in section repairs.
Unique cross ply construction of fabric ply gives maximum flexiblility, strength in square shaped OTR repairs. Large repairs possible with a smaller patch.
Uncure and cloth back OTR repair patches are available.
Injury specific patches can be made at request.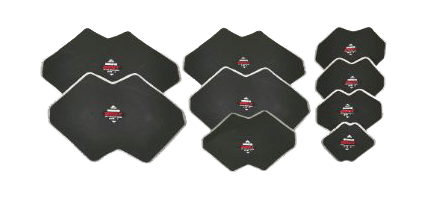 Butterfly Shaped OTR Repair Patch
Ref.No.
Description
Size mm
Size Inch
Box Qty
1030
OTR BU 0
220 X 220
8

⅝

" X 8

⅝

"
5
1031
OTR BU 1
260 X 260
10

¼

" X 10

¼

"
5
1032
OTR BU 2
305 X 305
12" X 12"
5
1033
OTR BU 3
365 X 365
14

⅜

" X 14

⅜

"
3
1033A
OTR BU 3.5
440 X 440
17

⅜

" X 17

⅜

"
2
1034
OTR BU 4
460 X 460
18

⅛

" X 18

⅛

"
2
1035
OTR BU 5
485 X 485
19" X 19"
2
1036
OTR BU 6
550 X 550
21

⅜

" X 21

⅜

"
2
1037
OTR BU 7
585 X 585
23" X 23"
2
1038
OTR BU 8
620 X 620
24

⅜

" X 24

⅜

"
2
Ref.No.
Description
Size mm
Size Inch
Box Qty
1030
OTR BU 0
220 X 220
8

⅝

" X 8

⅝

"
5
1031
OTR BU 1
260 X 260
10

¼

" X 10

¼

"
5
1032
OTR BU 2
305 X 305
12" X 12"
5
1033
OTR BU 3
365 X 365
14

⅜

" X 14

⅜

"
3
1033A
OTR BU 3.5
440 X 440
17

⅜

" X 17

⅜

"
2
1034
OTR BU 4
460 X 460
18

⅛

" X 18

⅛

"
2
1035
OTR BU 5
485 X 485
19" X 19"
2
1036
OTR BU 6
550 X 550
21

⅜

" X 21

⅜

"
2
1037
OTR BU 7
585 X 585
23" X 23"
2
1038
OTR BU 8
620 X 620
24

⅜

" X 24

⅜

"
2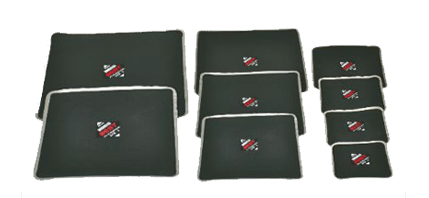 Square Shaped OTR Repair Patch
Ref.No.
Description
Size mm
Size Inch
Box Qty
1040
OTR SQ 0
185 X 185
7

¼

" X 7

¼

"
5
1041
OTR SQ 1
210 X 210
8

¼

" X 8

¼

"
5
1042
OTR SQ 2
235 X 235
9

¼

" X 9

¼

"
5
1043
OTR SQ 3
285 X 285
11

¼

" X 11

¼

"
3
1044
OTR SQ 4
340 X 340
13

⅜

" X 13

⅜

"
3
1045
OTR SQ 5
390 X 390
15

⅜

" X 15

⅜

"
2
1046
OTR SQ 6
440 X 440
17

⅜

" X 17

⅜

"
2
1047
OTR SQ 7
510 X 510
20" X 20"
2
1048
OTR SQ 8
535 X 535
21" X 21"
2
1049
OTR SQ 9
585 X 585
23" X 23"
2
Ref.No.
Description
Size mm
Size Inch
Box Qty
1040
OTR SQ 0
185 X 185
7

¼

" X 7

¼

"
5
1041
OTR SQ 1
210 X 210
8

¼

" X 8

¼

"
5
1042
OTR SQ 2
235 X 235
9

¼

" X 9

¼

"
5
1043
OTR SQ 3
285 X 285
11

¼

" X 11

¼

"
3
1044
OTR SQ 4
340 X 340
13

⅜

" X 13

⅜

"
3
1045
OTR SQ 5
390 X 390
15

⅜

" X 15

⅜

"
2
1046
OTR SQ 6
440 X 440
17

⅜

" X 17

⅜

"
2
1047
OTR SQ 7
510 X 510
20" X 20"
2
1048
OTR SQ 8
535 X 535
21" X 21"
2
1049
OTR SQ 9
585 X 585
23" X 23"
2