BIAS PLY TYRE REPAIR PATCHES
Constructed with special rubber compound and nylon fibers.
Fabric construction designed to match the cross ply tyre construction
High strength, flexible and shock absorbing
To repair crown, shoulder and sidewall injury in all bias ply tyres ranging from passenger to earth mover
Injuries from 1/8″ (3 mm) to 5″ (125 mm) can be repaired
Can be cured chemically (cold cure) or with any retread systems (heat cure).
Use with bestpatch chemical vulcanizing fluid for perfect bonding
For the repairs in tractor tyres separate series of patches (CTP) available with large fabric area and lesser ply
For sidewall repairs separate series of patches (CSP) available
The sidewall patch design enable perfect fit in the tyre sidewall
Refer injury chart for proper selection of the patch.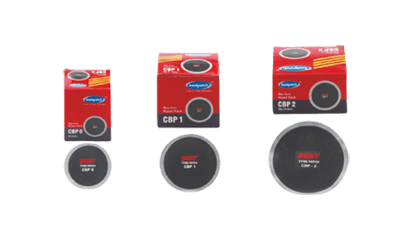 Ref.No.
Description
Size mm
Size Inch
Ply
Box Qty
1000
CBP 0
50
2"
1
20
1001
CBP 1
65
2

½

"
1
20
1002
CBP 2
90
3

½

"
2
20
Ref.No.
Description
Size mm
Size Inch
Ply
Box Qty
1000
CBP 0
50
2"
1
20
1001
CBP 1
65
2

½

"
1
20
1002
CBP 2
90
3

½

"
2
20
Ref.No.
Description
Size mm
Size Inch
Ply
Box Qty
1003
CBP 3
100 X 100
4" X 4"
2
10
1004
CBP 4
140 X 140
5

½

"x 5

½

"
4
10
1005
CBP 5
175 X 175
7"x7"
4
10
1006
CBP 6
240 X 240
9

½

"X 9

½

"
6
5
1007
CBP 7
300 X 300
11

¾

" X 11

¾

"
6
5
1008
CBP 8
340 X 340
13

½

" X 13

½

"
6
5
1009
CBP 9
390 X 390
15

½

"X 15

½

"
8
5
1010
CBP 10
430 X 430
17"X17"
8
5
Ref.No.
Description
Size mm
Size Inch
Ply
Box Qty
1003
CBP 3
100 X 100
4" X 4"
2
10
1004
CBP 4
140 X 140
5

½

"x 5

½

"
4
10
1005
CBP 5
175 X 175
7"x7"
4
10
1006
CBP 6
240 X 240
9

½

"X 9

½

"
6
5
1007
CBP 7
300 X 300
11

¾

" X 11

¾

"
6
5
1008
CBP 8
340 X 340
13

½

" X 13

½

"
6
5
1009
CBP 9
390 X 390
15

½

"X 15

½

"
8
5
1010
CBP 10
430 X 430
17"X17"
8
5

Ref.No.
Description
Size mm
Size Inch
Ply
Box Qty
1011
CSP 4
150 X 150
6" X 6"
4
10
1012
CSP 5
190 X 190
7

½

"X 7

½

"
4
10
1013
CSP 6
255 X 255
10" X 10"
6
5
1014
CSP 7
300 X 300
11

¾

" X 11

¾

"
6
5
1015
CSP 8
350 X 350
13

¾

" X 13

¾

"
6
5
1016
CSP 9
365 X 365
14

½

" X 14

½

"
8
5
1017
CSP 10
420 X 420
16

¾

" X 16

¾

"
8
5

Ref.No.
Description
Size mm
Size Inch
Ply
Box Qty
1011
CSP 4
150 X 150
6" X 6"
4
10
1012
CSP 5
190 X 190
7

½

"X 7

½

"
4
10
1013
CSP 6
255 X 255
10" X 10"
6
5
1014
CSP 7
300 X 300
11

¾

" X 11

¾

"
6
5
1015
CSP 8
350 X 350
13

¾

" X 13

¾

"
6
5
1016
CSP 9
365 X 365
14

½

" X 14

½

"
8
5
1017
CSP 10
420 X 420
16

¾

" X 16

¾

"
8
5
Ref.No.
Description
Size mm
Size Inch
Ply
Box Qty
1020
CTP 1
240 X 240
9

½

" X 9

½"

4
5
1021
CTP 2
300 X 300
11

¾

" X 11

¾

"
4
5
1022
CTP 3
390 X 390
15

½

" X 15

½"

4
5
1023
CTP 4
240 X 240
9

½

" X 9

½"

6
5
1024
CTP 5
300 X 300
11

¾

" X 11

¾

"
6
5
1025
CTP 6
390 X 390
15

½

" X 15

½"

6
5
1026
CTP 7
480 X 480
19" X 19"
6
5
Ref.No.
Description
Size mm
Size Inch
Ply
Box Qty
1020
CTP 1
240 X 240
9

½

" X 9

½"

4
5
1021
CTP 2
300 X 300
11

¾

" X 11

¾

"
4
5
1022
CTP 3
390 X 390
15

½

" X 15

½"

4
5
1023
CTP 4
240 X 240
9

½

" X 9

½"

6
5
1024
CTP 5
300 X 300
11

¾

" X 11

¾

"
6
5
1025
CTP 6
390 X 390
15

½

" X 15

½"

6
5
1026
CTP 7
480 X 480
19" X 19"
6
5